Discussion Starter
·
#1
·
I have an unused roof fan adapter made by Hein. It matches the contour of the OEM roof so a standard RV style vent mounts to a flat surface, instead of the ridges of the PM roof. It's 14"x14". I used it as a template to trace the part of the roof I cut out, so there is ever so slight white paint marker on the inside edge, but afterward, I put it back in the box and went a different direction with my install.
$45 shipped!
Below is the e-bay post for the exact item.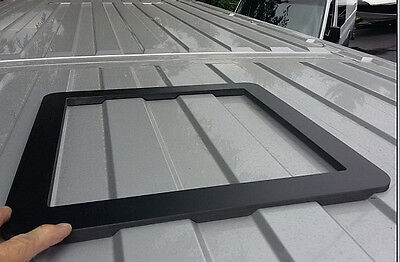 Locate and cut the 14 x 14 hole. You can use the adapter as a guide to mark the hole. Stay clear of roof supports, obviously. De-gloss the area with a Scotch- brite pad. No need to scuff. Just dull the paint.