So, it's finally time for me to upload some photos and give you guys a little more info.
We purchased our 2017 159" high top on the 19th of Dec. I had the pleasure of driving it home in the snow. It handled great even with not having winter tires. I was all smiles. It's been snowing so much here and staying on the ground such that we've broken all the records that have been kept back to 1840. Needless to say, the snow, single digit temperatures, ice, etc. have sure affected our ability to start outfitting the van. The road in front of our house was in such bad shape for over a week that only 4wd's were traversing it.
I almost bought a Sprinter over a year ago. I had reservations about owning a diesel Sprinter but drove over 8 hours to Portland anyway. I had put a deposit on it. The description was great. It was a POS with major structural problems.
So, I was shopping for a Transit. Had my sights set on a Transit. None to be had locally. Dealer didn't seem interested in a sale. Price was really high. Local Dodge dealer was interested in selling a van. There were a few on the lot. Sure drove nice! Price was fantastic. Had cruise, outside temp, comfy seats. Done!
This is our 3rd van (hence the title). Our first 2 were Ford Econolines: a 1989 cargo van and a 2001 window van which I just sold. Back in 1990, I outfitted the van with fiberglass insulation, some paneling on the sides, a bed that converted to a couch with a table in between the benches and a deep cycle marine battery. We were heavily into windsurfing then so it was a windsurfing van. All the wet gear and board went underneath. We slept above.
The second E150 had no insulation, no extra battery, tons of windows and the plastic panels that come with a window van. I used it as a people mover when necessary as it seated 8 but most of the time the extra bench seats were removed and it was our camping van. It had many iterations: platform bed when we were heavily into white water kayaking (kayaks slid underneath along with the wet gear) and winter trips to backcountry ski, bench seat with an aisle in the middle when we were mainly into biking and used the van a lot during the shoulder season and had to actually live in the van. I even had a small galley in front of the bed.
But, we always knew we wanted a van that you could stand up in. And cook in. We really like to cook. We would come back from Moab, Canyonlands and Arches during an October trip and say, "It sure would be nice to stand up and cook inside!" "And get out of the wind". "And get out of the rain".
Retirement finally happened and one of the first things we did was buy the right van for our lifestyle. Our build is similar to some of yours but nowhere near as nice. It will be functional but not pretty. If there is one thing I know, I will change it around as time passes. Old screw holes will go unfilled and just give it character.
I opted to buy a van with no windows. My first van had rear windows and one in the slider. Great! But they didn't open. Second van had windows everywhere! 2 even opened! Great! But, at times a little too much glass. And no screens. I wanted to be able to put in what I wanted (if I wanted them) and for them to operate and have screens.
To add further complications (other than the weather), our first trip is scheduled for the end of Feb (we plan to meet RD during the trip). Our goal is to have a bed, insulation and a place to store the bikes. Our second trip to Alaska is set for the beginning of June. Hopefully it will be more fully outfitted by then.
So, let's get started on the build:
Let's start with the floor: 1/2" polyiso floating on the floor without adhesive covered by 3/4" plywood from HD. I opted for 3/4" as I have to anchor some rather heavy drawers to it. You'll see! I always hated not having floor anchor points in my old vans.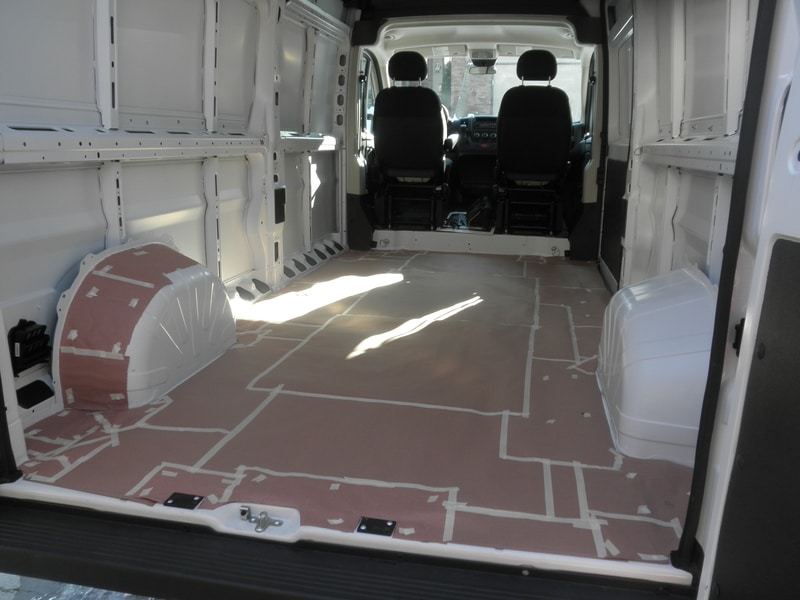 The resin paper template. I think it was around 10°F or 12°F when I was making this but at least it was sunny.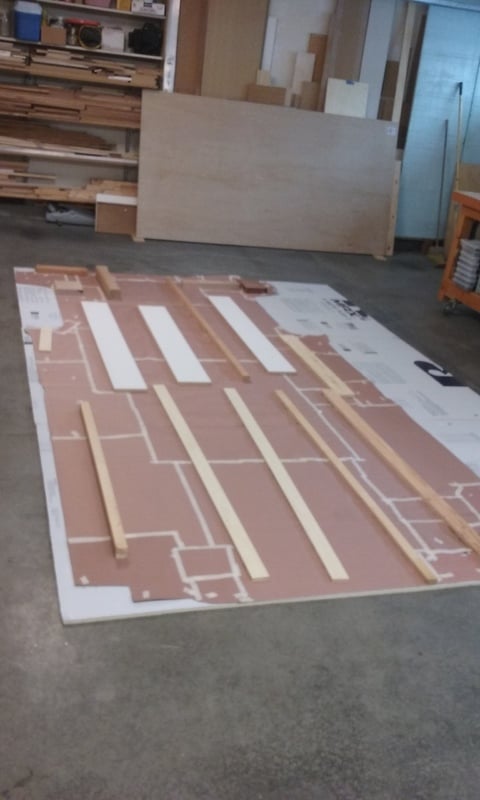 The 1/2" polyiso is under the template just waiting to be cut.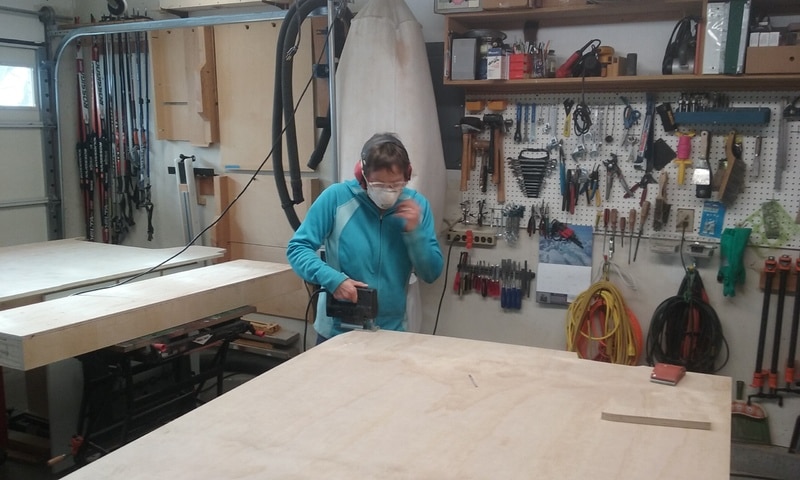 My wife is becoming an expert with a jig saw. This is the 3/4" plywood.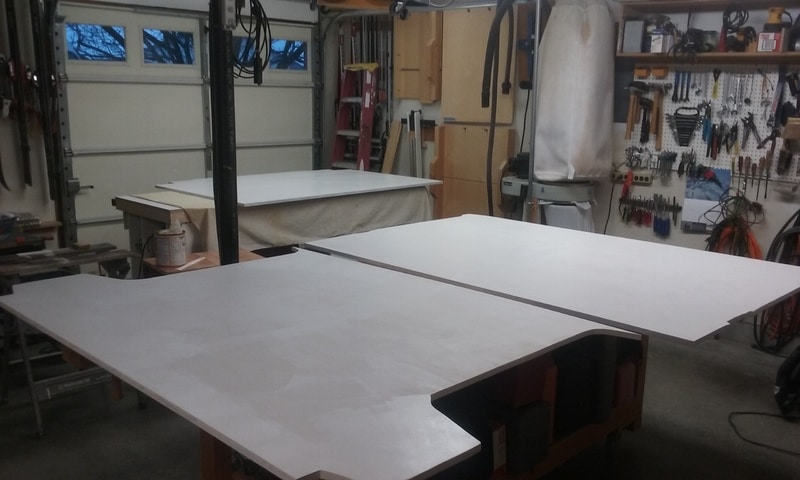 Using all of my flat surfaces to prime the plywood, both sides of course.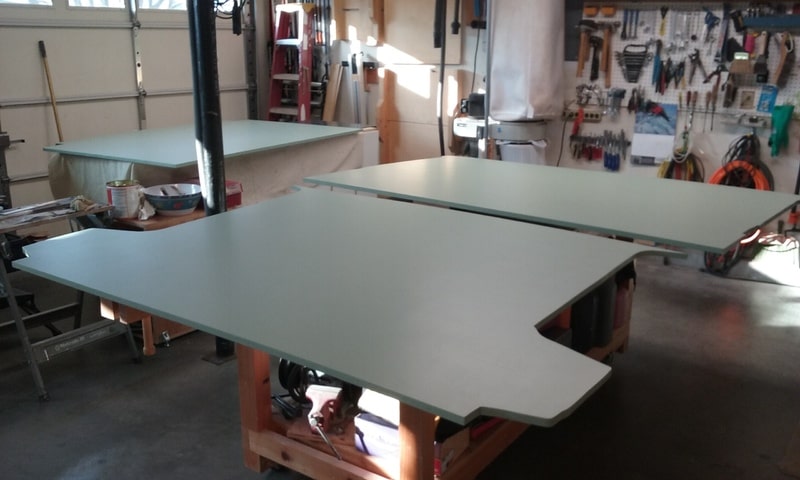 Finished with a nice shade of green (attn Msnomer - we both liked your color scheme) to match our outdoor nature (latex porch paint).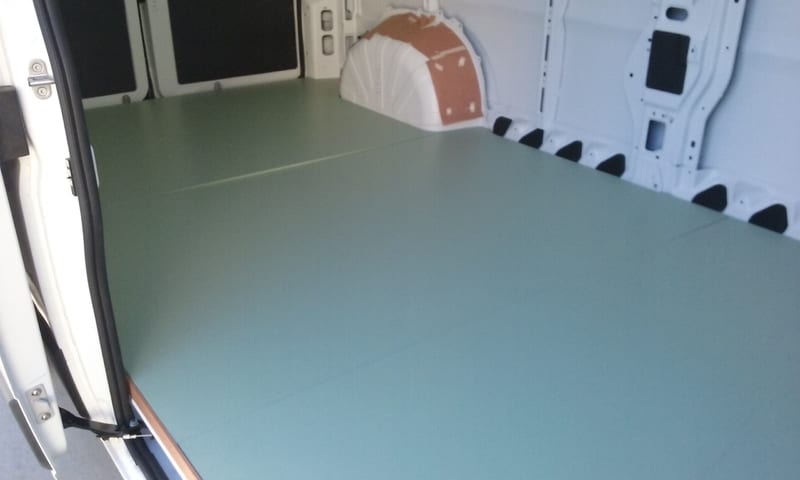 Plywood lying in place atop the polyiso. I had to wait a few weeks for the weather to let me remove the floor (polyiso and plywood) so that I could remove the tie downs, add transfer screws to pinpoint the location of the tiedown bolt holes, transfer the location and drill the plywood and attach with bolts. I don't have a photo of the final floor yet.
The things that you don't see here are: I added some custom filler strips in various places on the floor. It appeared to me that there were some unsupported areas large enough that the polyiso could break. I milled these strips down from 2x material: 1/8", 3/16", 9/32" etc. and glued them in place. We had one day where the temp skyrocketed to the 30s. I turned on the van heater and put an electric heater in place. Then, when I thought it might be warm enough (50°F suggested), I used some of the Gorilla Glue construction adhesive to place these strips. At the same time, I glued in some 1/2" thick strips (same thickness as the polyiso) that go under the plywood joints. This way, I am able to screw the plywood floor to the van without drilling through the van floor.