Discussion Starter
·
#1
·
I'm not gonna make one. Since someone will inevitably comment on it, I'll say right now I'm (1) lazy, (2) done with making stuff, (3) don't sew, (4) running out of time. Case closed lol.
Also rather not order a Pleasure Way screen for $800.
Here's an example of what I'm considering: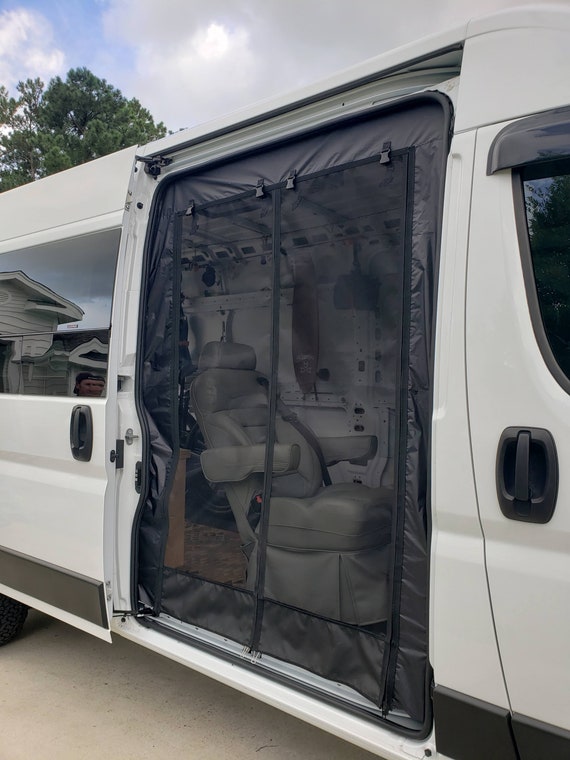 Thank you for viewing our van bug screens! Please note our delivery timeframe- WE CURRENTLY HAVE A 6-7 WEEK PRODUCTION LEAD TIME TIL SHIPMENT. RAM Promaster Screen Door for the Side Sliding Door High Roof PRODUCT WALK THROUGHS AND INSTALL AVAILABLE ON YOUTUBE. To see the bug screens in action copy

www.etsy.com
- Ease of install and use are important.
- I don't know what a no seeum is, and have never encountered one of these mythical pests, but if they do in fact exist somewhere in the continental US, we'll want to keep them out. So the magzo and other cheap mosquito screens are out.
- I think I would prefer magnet closure for ease of getting in and out, but my wife is concerned our cat could push out. Is this a reasonable concern? He doesn't typically try to escape our house, but who knows what his life will be like in the van.
- I have a stove overlapping the opening. Is center open still best? Think center opening would allow reaching the slider when the screen is deployed.
Lead time for the one linked above is 6-8 weeks. We leave in 6 weeks, but could get it shipped to AZ if there are no good faster options.