2014, 138WB, High Roof, Gas, SW MT
Discussion Starter
•
#1
•
Hi,
I had a go at a spreadsheet to estimate heat loss from a PM camper van with no insulation compared to whatever insulation package you want to enter.
It gives heat loss separately for walls, ceiling, floor, windows, vent, and air infiltration so you can get an idea where the heat is going and where the best payoff is. You just enter the R values for each item, the inside and outside temperatures and it gives you heat loss in BTU/hr and an estimate of heating fuel burn.
This is a sample output plot: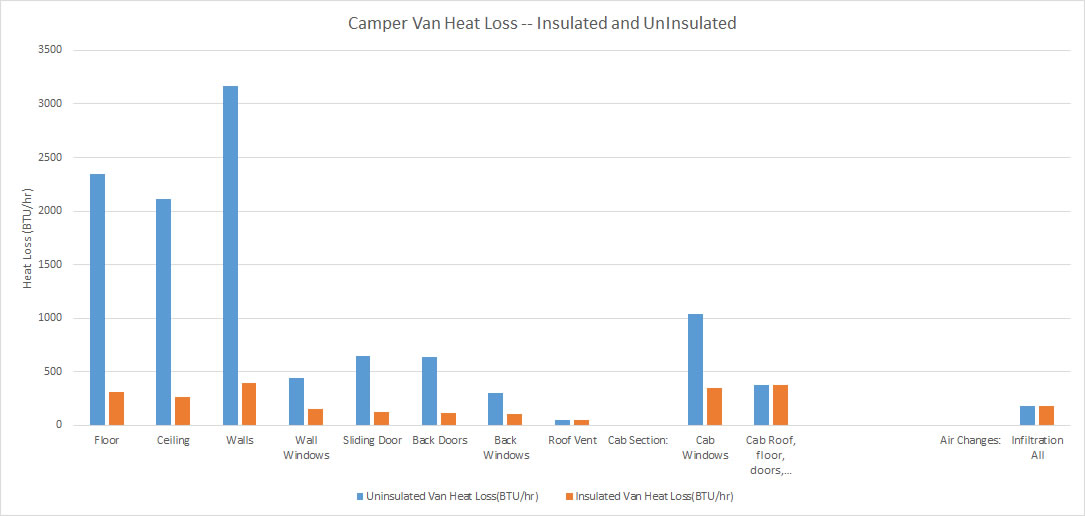 This is the is for the insulation package I have in my PM -- basically 1 inch polyurethane insulation for wall/ceiling/floors and thermal shades on windows. It estimates an about 80% reduction in heat loss.
You can plug in whatever insulation R values you like, and there are some guidelines for estimating R values and for estimating R values for walls with multiple layers.
The geometry is set up for my 136 WB, high roof, but you can easily change the areas to match other van configurations.
This is the web page you can download the spreadsheet from:
http://www.builditsolar.com/References/Calculators/VanHeatLoss/VanHeatLoss.htm
Let me know if you have any problems with it or see any errors.
Feedback on usefulness (or not) appreciated.
Gary