2014, 138WB, High Roof, Gas, SW MT
Hi,
We are just starting a conversion of our new PM to a simple camper/RV -- I'll report how things go in this thread.
Main objectives are:
- Keep it simple
- An open feel inside
- 20 mpg
- Comfortable beds for 2
- No need for hookups
- Drives like a car
We got a high roof, 1500, 136 WB with the 10 ft load floor behind the seats.
This is our 3rd RV, and one thing we learned from the others is that keeping it simple and open rather than trying to cram too much into too small a space is what works for us. For us, what really counts is a comfortable bed, minimal cooking facilities, and a nice open feel. We are doing without shower and just going to use a portpotty for bathroom.
On the no hookups, we are keeping an eye on everything that consumes electric power. Will use LED lights, efficient fridge with Danfoss compressor, furnace with low electrical demand.
Solar panel for charging battery.
Will have propane for cooking and furnace.
On the 20 mpg objective, we started with a relatively short and lightweight version of the PM and plan to keep the conversion weight down and not add a lot of draggy things on the outside. This also helps with the "drives like a car" objective.
Layout:
So, seems like the first order of business before I can get on to insulation, paneling, wiring, making furniture... is to work out the inside layout.
We looked at what seems like a thousand inside layouts -- mostly European for similar size RV's, and came down to two finalists. Both shown below -- any comments would be very welcome.
Forward Bed Layout:
This idea came from the Murvi commercial RV -- its the 2nd one in this video.
https://www.youtube.com/watch?v=T-h8ruMKBog
Really like the open feel and what seems like practical layout.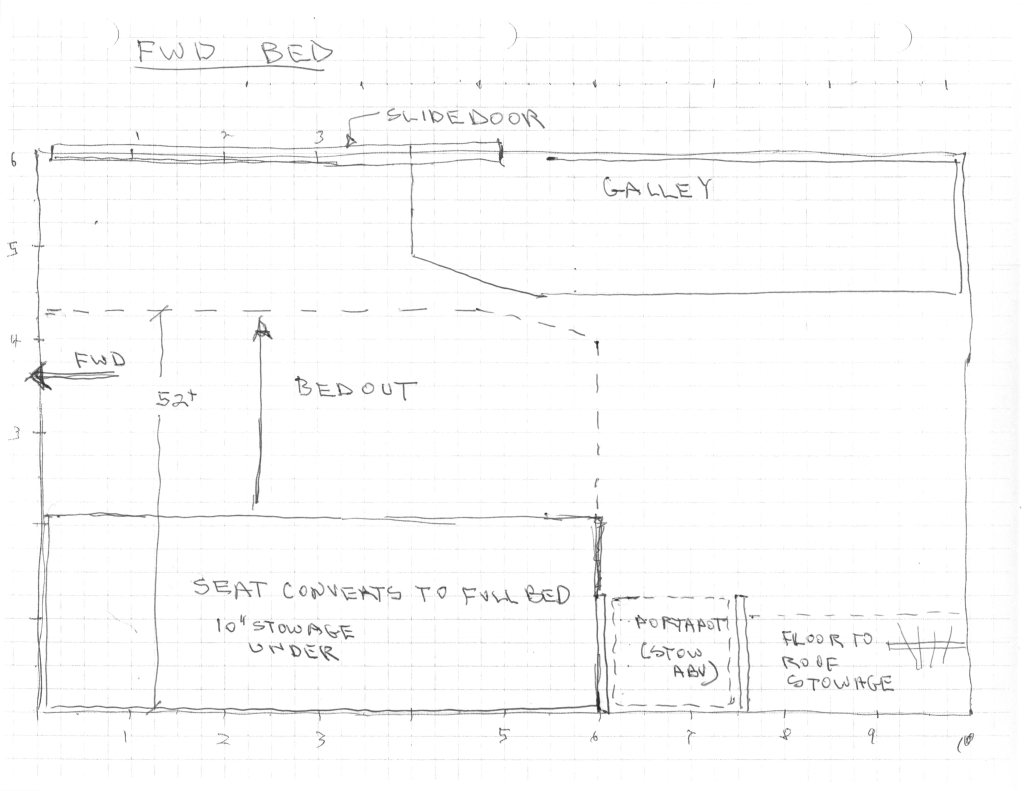 We did a crude mockup of this one inside the PM -- hard to take pictures of, but looks like this.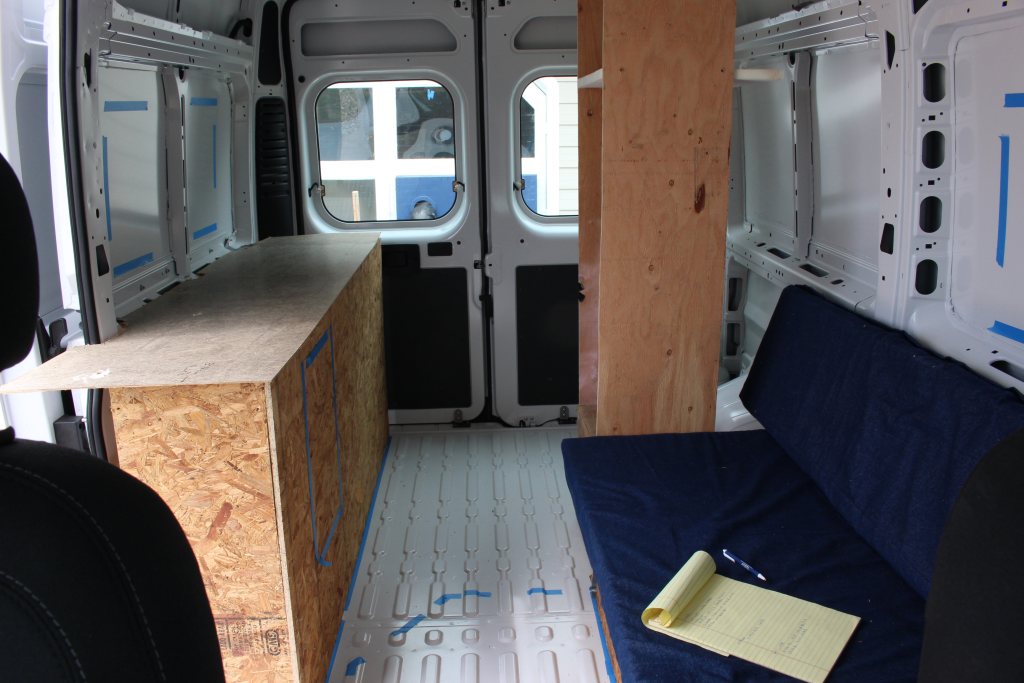 To right (with blue cushions) is the bed in the seat configuration. Tape marks on the floor show what it comes out to when in bed configuration.
Long cabinet along the left is the galley.
The vertical plywood aft of the bed is where porta pot goes, and then floor to ceiling stowage cabinet would be behind that.
There would be a small table to go in front of the seat.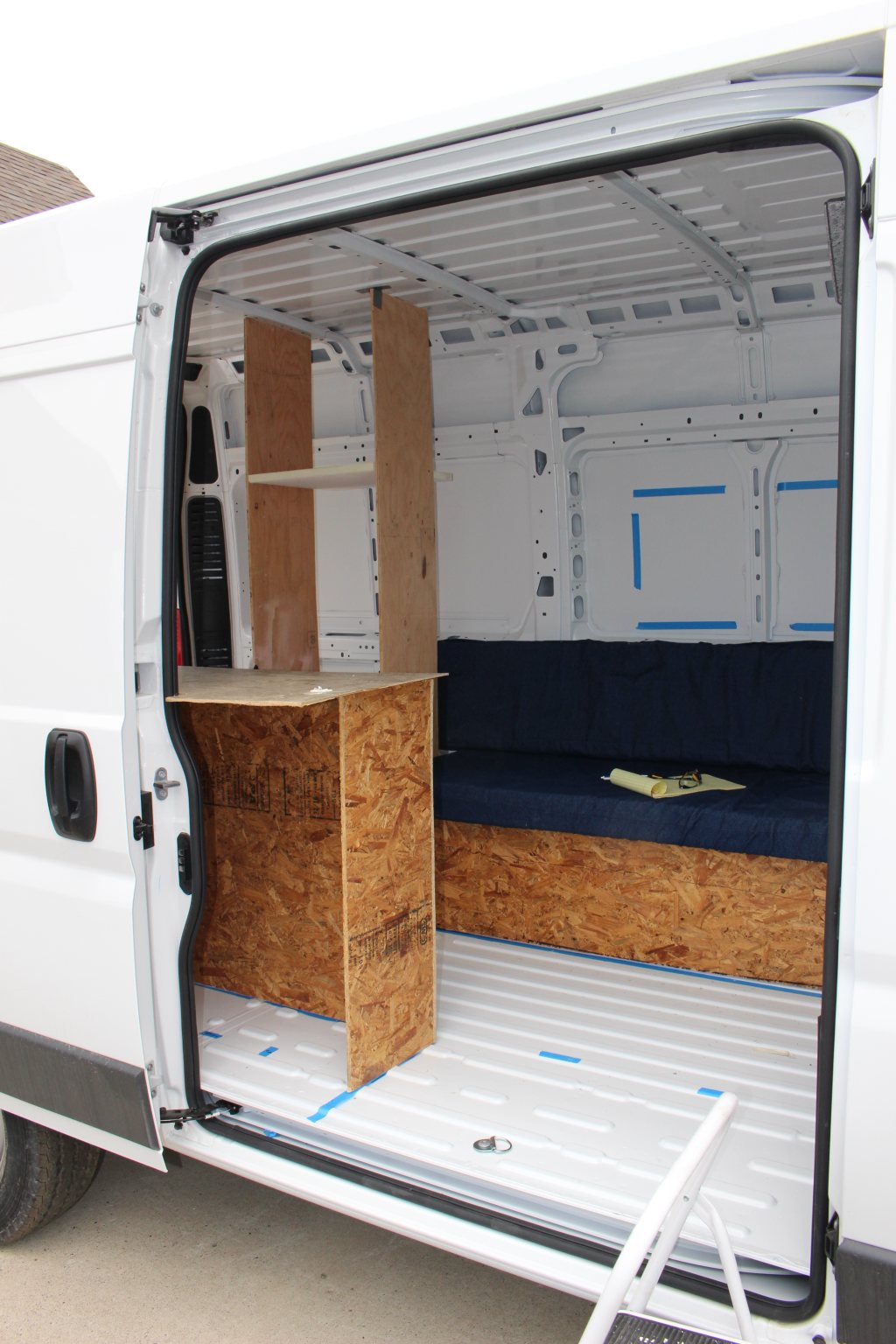 From the sliding door.
We like the nice open feel this one has and it seems to get the job done and has a comfortable bed.
Don't like so much that you have to do a bit of a conversion of seat to bed and bed to seat a couple times a day.
Aft Bed Layout:
This one has beds in the back with galley along drivers side up front.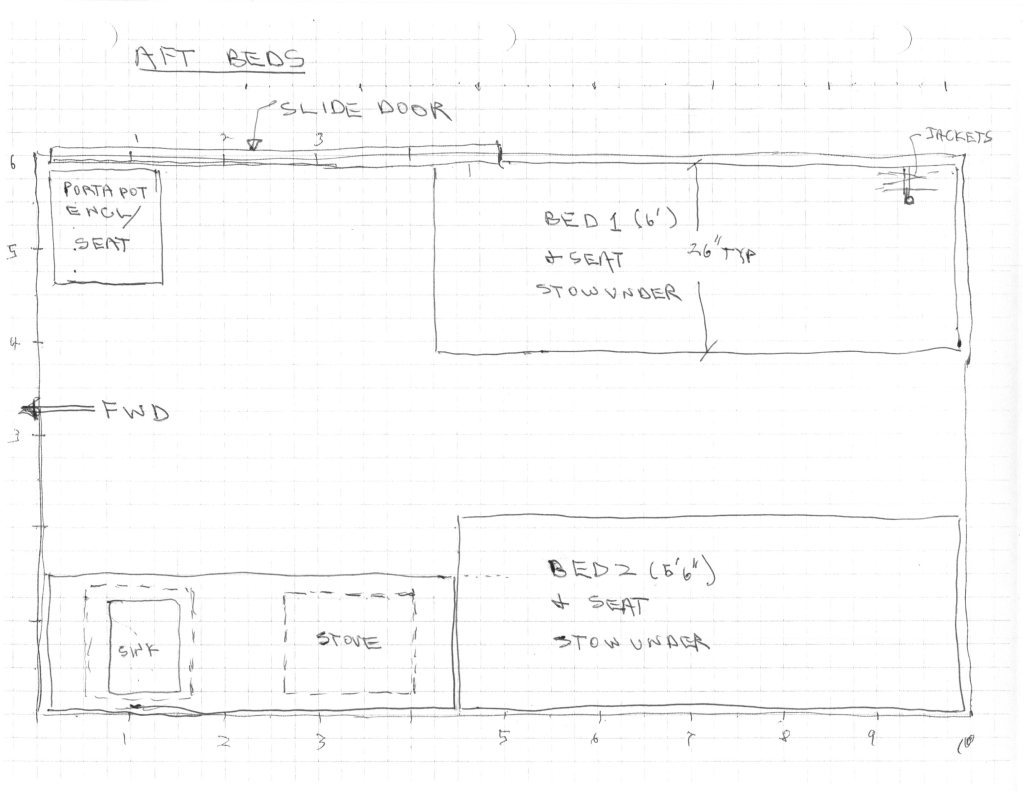 Also did crude mockup of this one: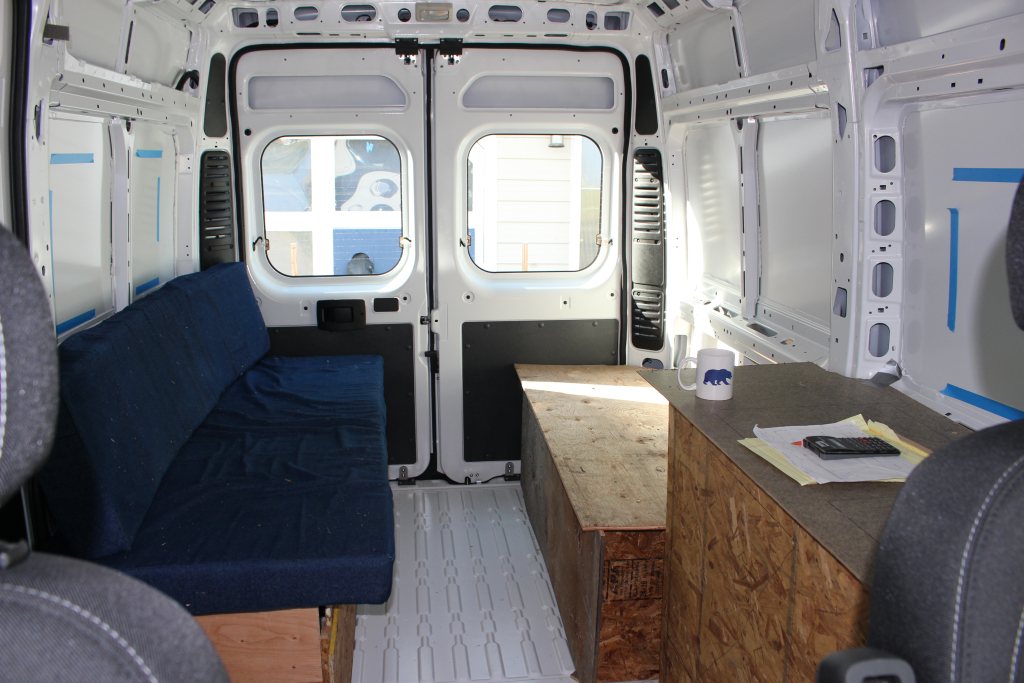 Like the open feel of this one as well.
Galley size suffers compared to the other one, but beds are probably better.
I cheated the driver side bed down to 5.5 ft to make the galley longer -- just right for my spouse
View from the back: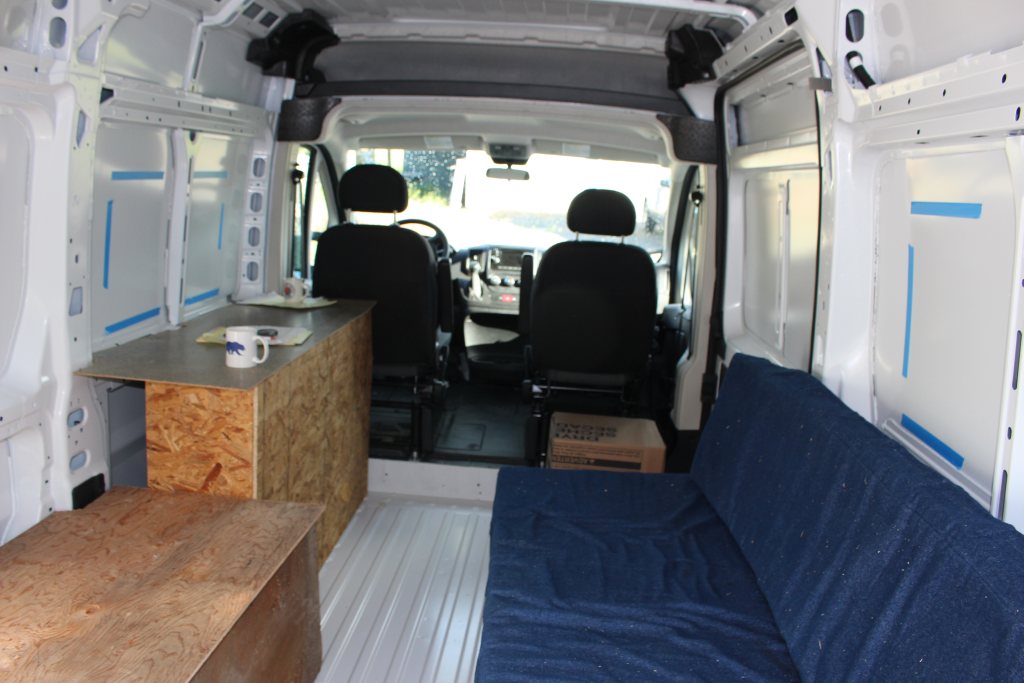 The portapotty is mocked up with cardboard just behind the passenger seat.
On both setups there would be some cabinets above the windows in the corner where wall meets roof.
There would be windows in the sidewall and sliding door for both layouts -- the aft bed layout might allow aft windows on both side.
Any comments or thoughts would be very welcome. Or, ideas for an altogether different layout.
Gary