Discussion Starter
·
#1
·
It is difficult to compare portable power stations as even the technical sections of their websites obfuscate the power output of these devices by reporting its output at 3.6 volts, 120 volts, inverter watts and occasionally as amp hours. If they all reported the internal battery's output in watts or in amp-hours at 12 volts it would be easy. I'll use the last in my posts. Hidden in the specification sheet is also the battery type. AGM lead acid batteries are heavy and cheap. Lithium Ion batteries are lighter and more costly but with comparable recharge life. LiFePO batteries are expensive, long lived, safe, and expensive. All these power stations have some common features. Most include USB charging ports, one cigar type outlet, several SAE or other output ports, a solar controller and an inverter.
I settled on building a lithium based 50 A-H storage unit which is size comparable with a $2,000 Jackery or Goal Zero. For my needs I decided to have the inverter plug in but I could have had it inside, same for the charger. Both will fit into my box if I want them along. Here is the finished product:
Here are the products and costs:
I picked the battery first. AIMS is a well known lithium battery producer and it has available 50 A-H or 100A-H. I looked at my needs which as to mainly run a small chest refrigerator and felt the 18 pound 50 A-H was sufficient. If 100 A-H was chosen most of the other components and fuses would need a slight upgrade. The LiFePO battery is limited to 50 amps output and charging rates should be 5-10 Amps. Since I wanted a complete system I also bought a 100 watt solar panel. I found a lithium specific charger for home use and cables for the vehicle cigar lighter socket to charge it as well. Renogy makes several 10 amp solar controllers and the new model Voyager has a wake up feature if the battery's BCM has shut it down. My lithium smart charger can do that as well.
Amazon provided lots of ports for input and output, a fuse panel with 6 connectors and a negative buss, USB and cigar outlet and others. The box is a cheap Home Depot "Homer" toolbox but any 16"-20" toolbox would work. I had the 19" one already saving $10. Super waterproof cases by Pelican and others might be nice but are not necessary and sizing just what you need may be tough.
The next step was to fit everything inside. I laid the battery on its side on a plastic block that supported it and left lots of air circulation. I then mounted the positive fuse panel, the negative buss, the solar controller (outside as it is waterproof) the very cool AiLi battery monitor and the main fuse block. Once they were attached I wired them up just like you would in your van- Battery positive to main disconnect to main fuse to fuses block then negative to the monitor's shunt to negative buss bar. The solar inputs are Anderson Powerpole to the solar controller then to the positive fuse panel, the USB and cigar outputs to the fuse panel and two SAE input/output ports that the chargers use. Here are internal pictures of it wired: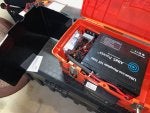 There is a cover for all that:
My final thoughts:
This will supply as much power as a 100 A-H lead acid battery. It runs my refrigerator for about 4 days. It weighs about 23 pounds and carries easily. The solar panel will charge it up to full from 50% SOC in 3 hours or a similar time with the 110V charger. I haven't yet used the car charger as this is so easy to keep charged. I could add a second 100 watt panel for faster charging as the double Powerpole port is ready. With the WATTBOX done I have a portable power source for less than $700 which would be $2000 if purchased and it is better being LiFePO instead of Lithium Ion with its shorter life or AGM with its weight. It is customized for my use so I do not have a black box of proprietary parts I depend on some unreliable company to replace. I have an older 350 watt inverter but included the cost of a sine wave new one to be fair. The box has space to cary all the cords, the charger and the inverter which could be installed permanently.
Would this run your van conversion? It could if you did without a microwave and induction cooking or other high draw appliances. Lights, chest refrigerator, electronics charging and other basic needs could be done easily. If you were willing to have a 30+ pound 100 A-H WATTBOX then nearly everything could be done and it could be built for $1200+-