Discussion Starter
•
#1
•
Hi All,
Wanted to share my basic roofrack design, in case somebody has a bit of time on their hands and wants to save a few bucks.
I should preface this by saying that if you are going to follow in my footsteps, it is at your own risk. Only you can decide what's appropriate for your roof and intended loads. Only you can decide if the grinder use described is appropriate for you.

With that out of the way, some background to the design. As noted in the title, I'm a cheapskate. A commercial rack (or commercial feet that would enable a built up rack) wasn't attractive to me. I'll be hauling fairly light stuff -- a few sticks of long trim, an extension ladder... that sort of stuff. So, for about $50, probably 8 hours, and scraps from the garage, I built what I'm going to claim is a perfectly decent rack.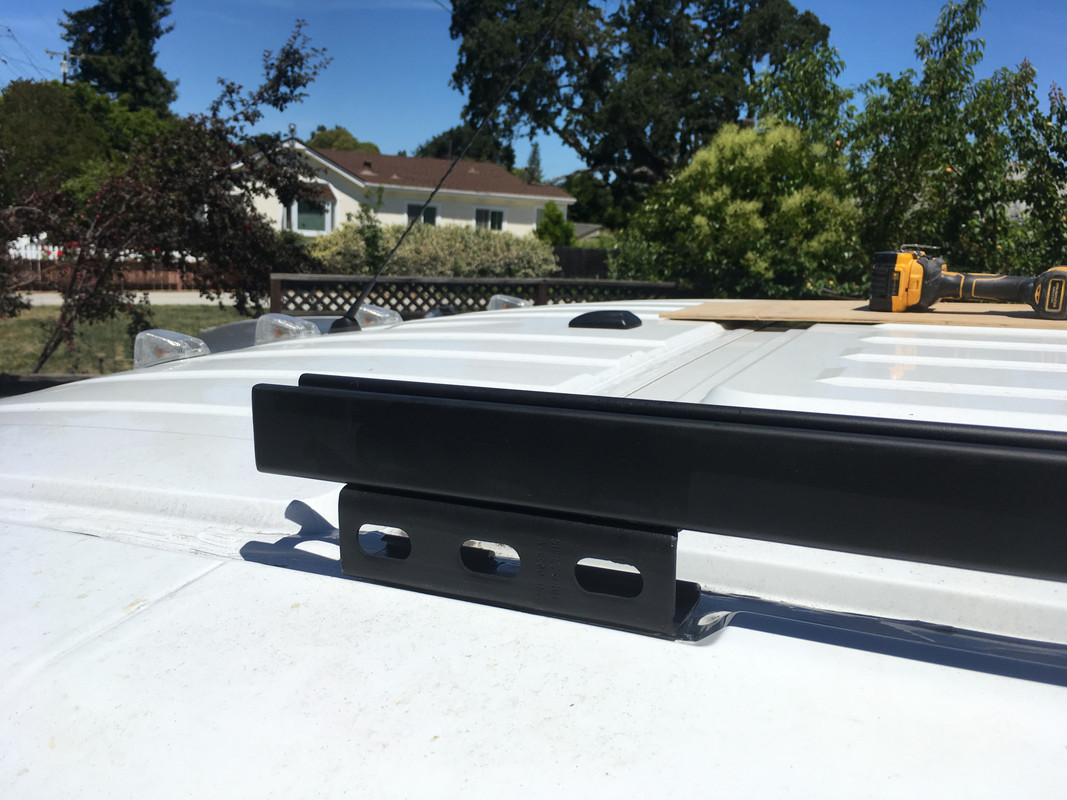 The materials below work with a 2018 118" wheelbase vehicle. I'm not sure prior years have the rooftop lugs like mine. Length-wise, 2-10' superstruts yielded almost exactly the right amounts: each 10' gave 3-6" feet and almost 8' for the long part of the assembly (with 8" left over). If you have a longer wheelbase, your lugs might be further apart, so you might be buying more superstrut. (I can imagine that the 136" needs a 10' long bar, and 159" needs a 12'. Superstrut exists up to 20', but you're probably going to have to find a real hvac supply house to get the 20' length.)
Materials:
2- 10' long, 12 gauge, 1-5/8" channel Superstrut (
Click for Home Depot linky. Not an endorsement of HD.
)
** 10' might not be long enough if you have a 159" wheelbase. Read below.
** 2-10 might not be enough if you have a 136" wheelbase. Read below and prepare to buy an extra 4' section.
12- 1" long (or so) 1/4" nut/washer/bolt combos (I used pan head
#3
square drive and nylock bolts)
12- 3-1/2" bolts w/washers and nuts (*** length and quantity varies depending on your crossbar material ***)
2 cans black spray primer
2- 6' long Superstrut or 2x4 lumber or whatever you've got that seems appropriate. (I used 1x4 ipe, a sturdy tropical hardwood.)
Tools:
grinder with metal cutoff blade and metal grinding blade
** you could theoretically substitute a hacksaw and file, but I really wouldn't want to be you **
hand, eye and ear and possibly face protection for grinding (
Click here for UNPLEASANT IMAGES of grinder disasters. NSFW. Consider yourself warned.
)
file for de-burring if you don't want to use the grinder
1/4", 5/16", 1/2" steel drillbits + drill
2-4 clamps (pics will explain)
socket set
combination wrenches
maybe vise grips and an insert bit if your short bolts have a phillips/square/hex drive
standard marking and measuring: square, tape, sharpie
ladder
Build steps:
1. Lay out the notches as shown on the ends of the superstrut. You need 4 of the "end" layout and 2 of the "middle" layout. If those 2 pics look the same, the holes are offset differently relative to the open part of the U section. Do 3-6" sections on each strut so you'll have two long strut sections left over. Don't cut them into 6" sections yet, as it'll make the pieces harder to hold onto. (Ignore this if you have a snazzy vise and tidy enough workspace...) If your have a 136 or 159 wheelbase, go measure your roof now to ensure that you'll have intact long pieces to go on top of your feet. Minimum size is the distance between the front and back posts plus 6".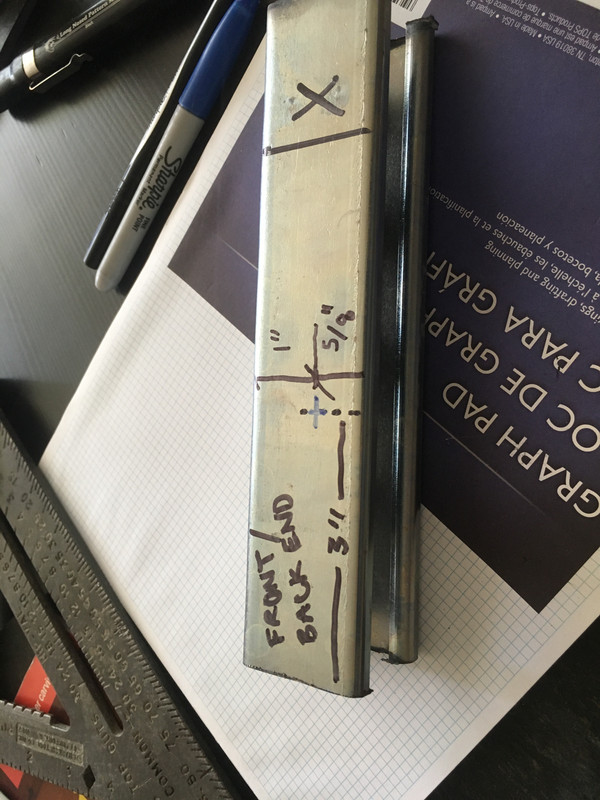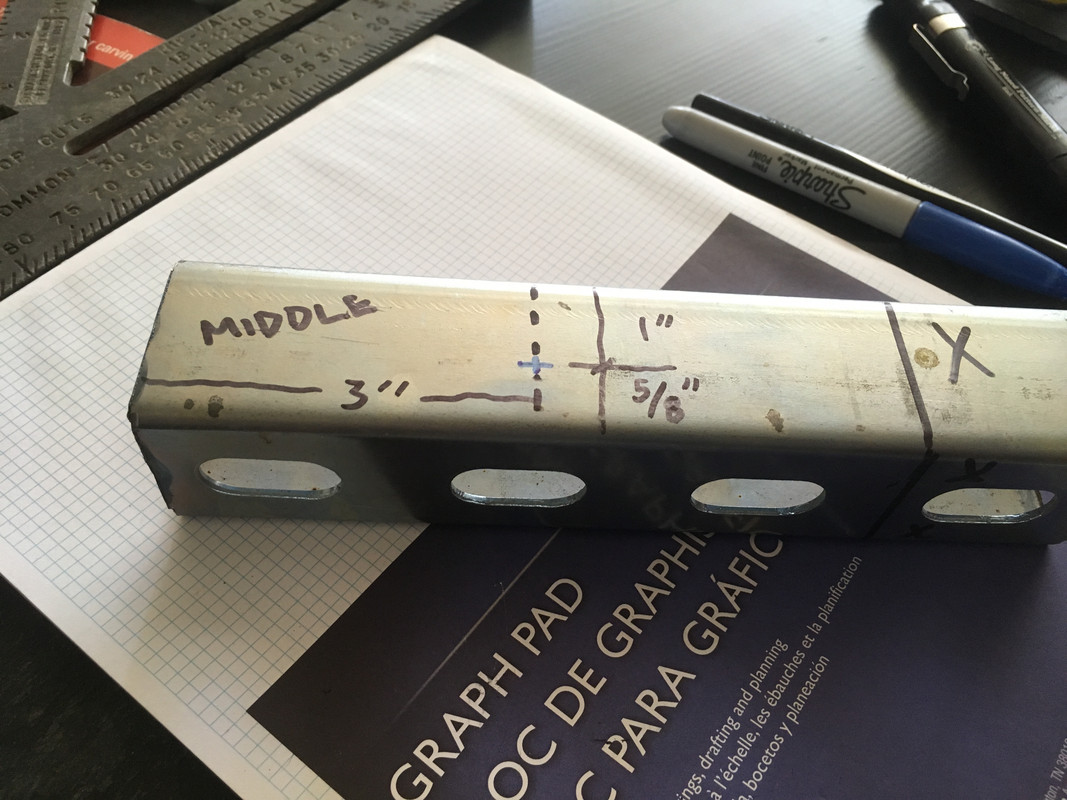 Note that there are two basic layouts: ends and middles. This is the foundation of why this works without any fancy tightening apparatus in the foot. The front and back feet come onto the roof posts from one side, and the middle foot comes into the post from the other side. Once you bolt the long superstrut securely to those three feet, the assembly can't move. (It can't go forward and back because the slots in the feet constrain it. It can't move side to side because the front/back feet oppose the middle foot.)
2. Drill a 1/4" hole as shown by the blue cross in the pics above. Cut an accurate 1/4" slot toward the open side of the strut. For the middle feet, cut an additional 1/2" x 1/2" slot. (This makes assembly easier, though it might not be absolutely necessary. If you feel lucky, maybe leave out that step and come back to it afterwards if you absolutely need to.)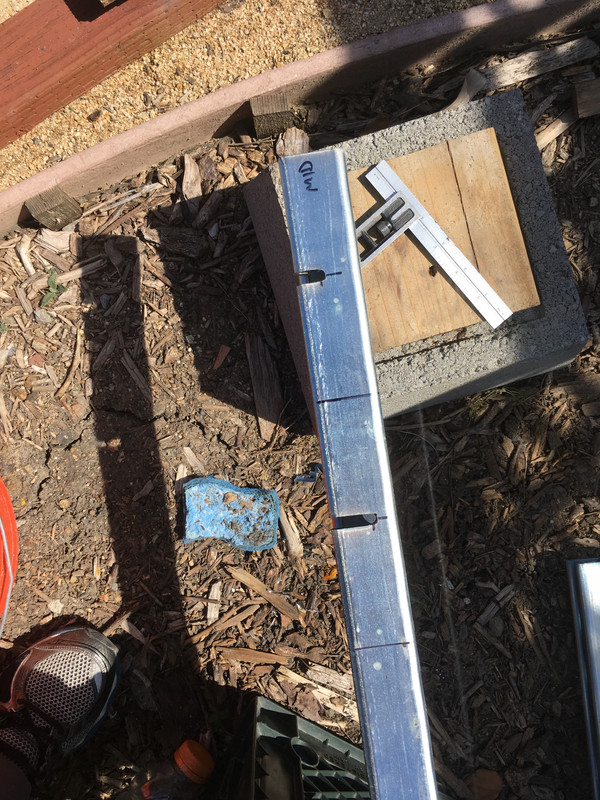 ** ignore the fact that the strut says 'mid' -- that is actually an end **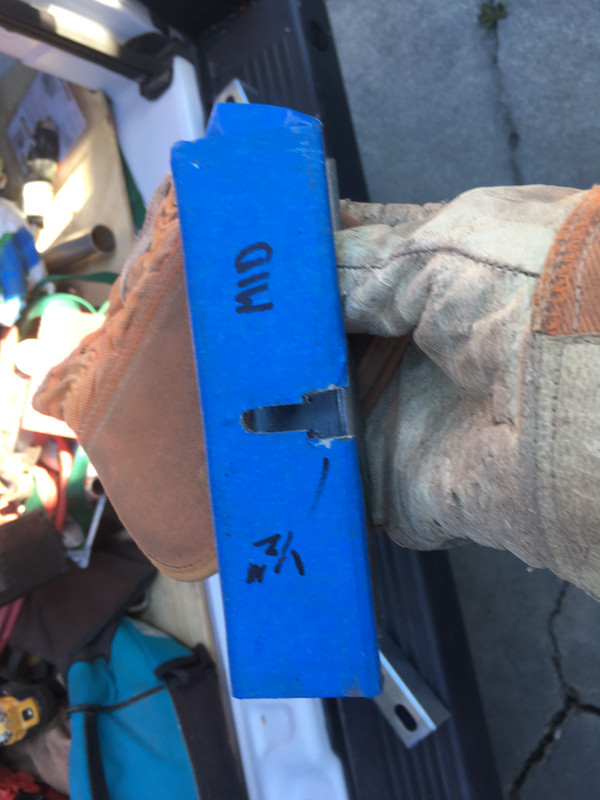 3. Cut a slot in the rolled over part of the strut, then cut away a minimum of 1" of the rolled part, centered on the slot. With the grinding wheel, grind any remaining part of the rolled lip away.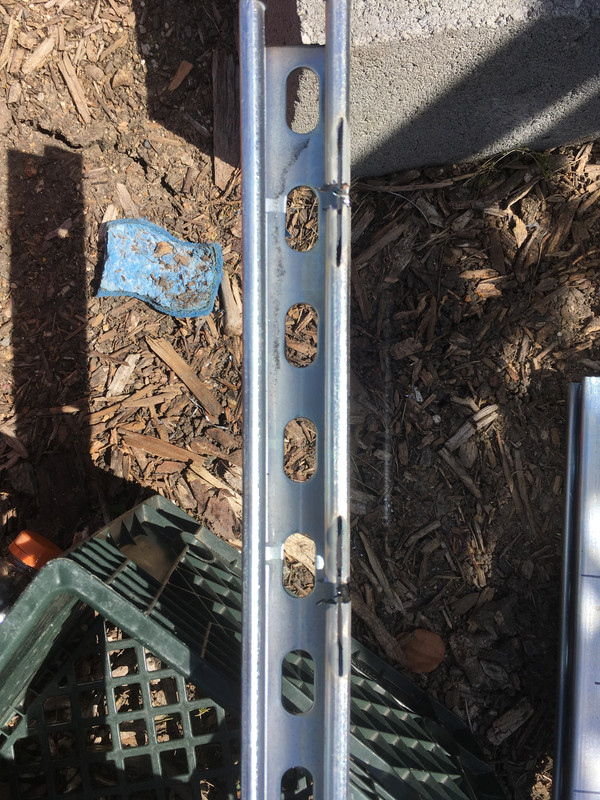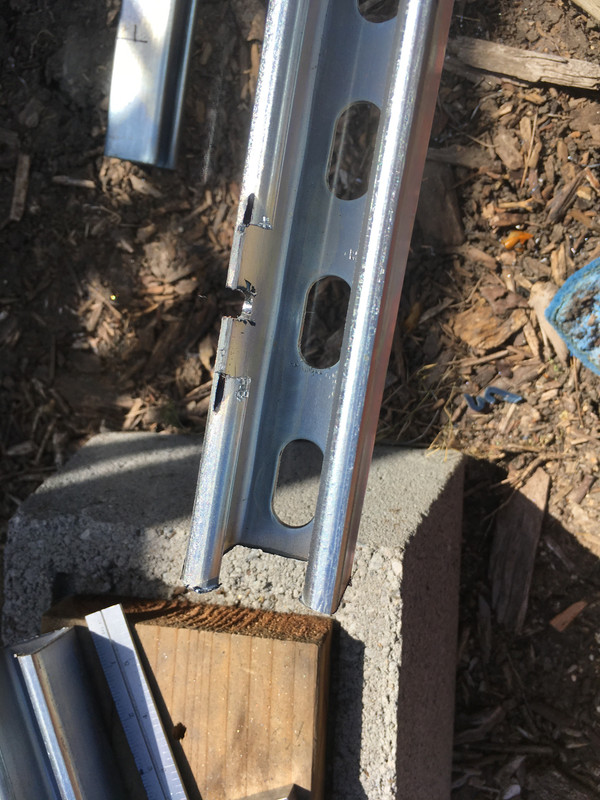 4. Cut into 6" sections.
5. Deburr all of the rough edges, either with a file or grinding wheel. (Or a flap disk... those are handy.)
6. Place the feet on the roof posts.
Reminder: front and back slots face in; middle slot faces out. This is important.
7. Cut the long bars of the assembly to suit. (My 118" wheelbase wanted a long bar just under 8'.)
8. Place the bar on the row of feet and accurately mark how the foot and long bar align. Decide where you want to locate 2 holes. (Hint: put the holes in the solid part of the long bar. I don't recommend using the already cut ovals, as those could be exceptionally sloppy and could lead to catastrophic rack failure if your bolts loosened over time.) Also mark which foot is which (front/middle/back). If you had a letter punch set, you could avoid my mistake of painting over my marks...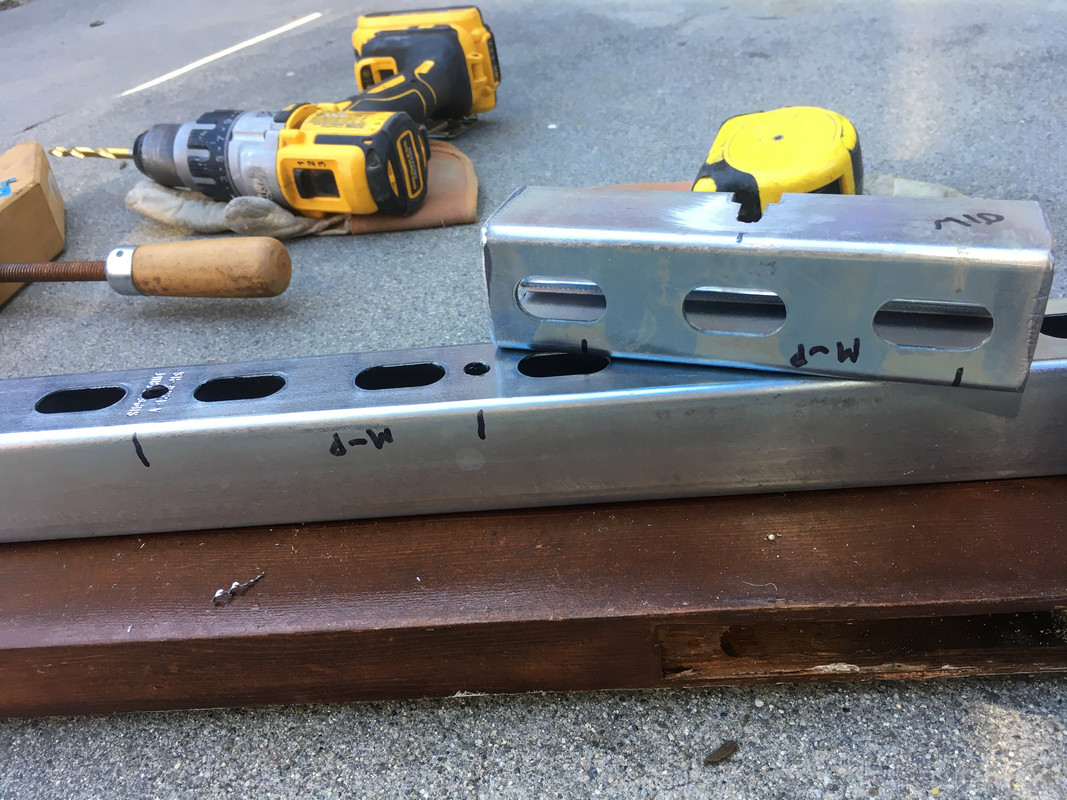 9. Take it all down off the roof. Drill the long strut first with a 5/16" bit. Or a size that's slightly bigger than your attachment bolts. (Two holes on top of each foot; through the meat of the strut. One hole isn't enough as you then have the possibility of pivoting feet and catastrophic failure.)
10. Clamp the foot underneath the long strut and with the hole of the long strut as a guide, drill through the foot. Accuracy counts here, so be sure to stay on your alignment marks. If you didn't clamp tight enough and the foot squirmed out of alignment, clamp it again and drill a slightly elongated hole on the foot. Rinse and repeat for all of the feet.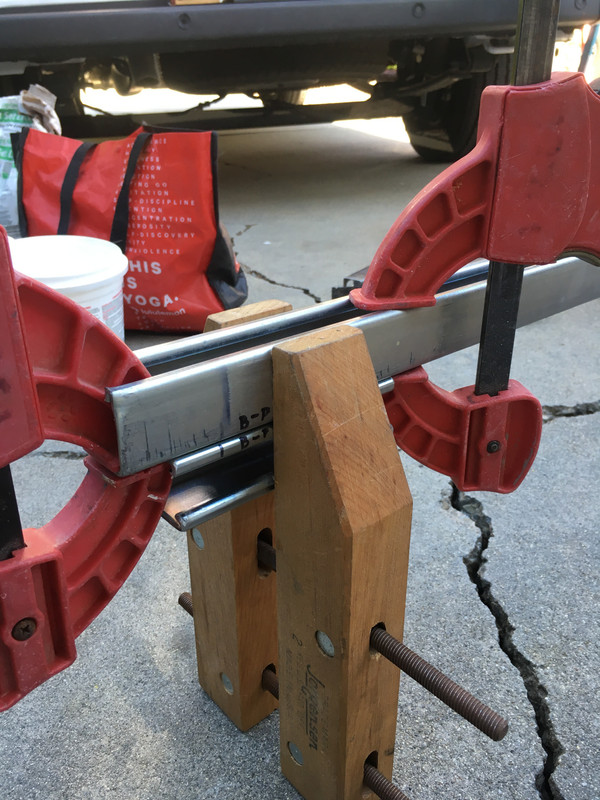 *** Try to keep the feet and long bars organized. You really don't want to mix sides and even spinning front to back can be a pain. ***
11. This is when you do whatever painting seems appropriate. And this is when my left side got switched with my right side and screwed me up a little bit.
12. Assemble the rack. I found that having two stepladders was helpful, as was having a scrap of plywood on the roof so I didn't have to worry about scratching the finish wielding an 8' bar. In my case, I had pan head machine screws with a square drive, so the only way I could grab the head inside the channel was with a 1" driver insert bit and vice grips. (The head was down because I was going for a tidy look. In the end, you can't see any of it, so it would have been vastly easier to have the nut on the bottom -- easily grabbed with a wrench and the driver head on top. Sigh.) It's probably easiest to loosely thread all of the bolts, then go back and tighten them.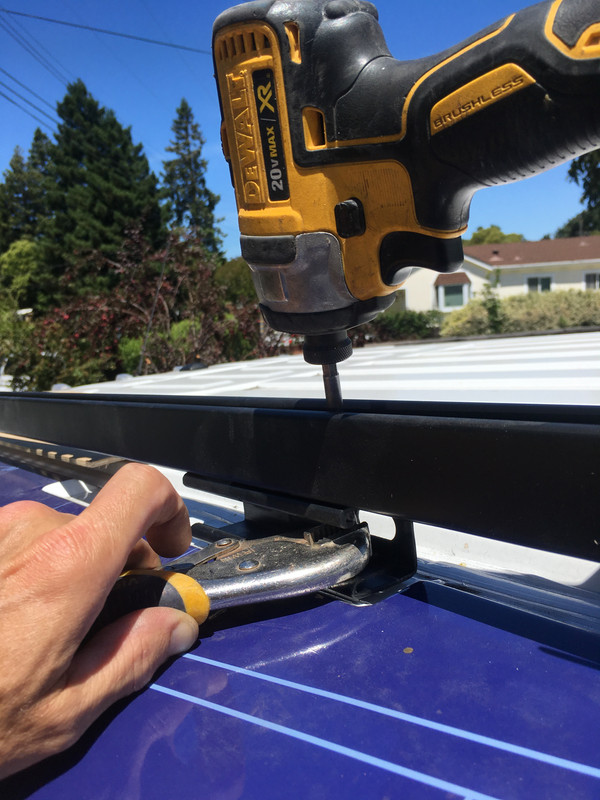 *** You'll find that you can roll the bar assembly a little bit side to side, but at this point, you should be able to push it in any direction and not have it move off the roof lugs. If you can pull it off the roof in any direction, one of us has done something wrong and the responsibility rests with you to fix it. ***
13. Find something you like for crossbars. That could be more superstrut or random lumber that's suitable for your purposes. I had some 1x4 ipe. (This prompted my wife to make a Beverly Hillbillies reference, so I might have to paint it black.) If you go with superstrut, you only get one bolt per connection, so make it count. If you have something wider, like 3-1/2" lumber, you can run 2 bolts with sturdy washers through the pre-existing oval holes in the superstrut. I didn't have a dozen bolts that would go through the superstrut and my crosspieces, so ended up making them out of 1/2" galvanized allthread, which was a
huge
waste of time. I would have been ahead of the game to just go to the hardware store and buy the right fasteners. Be aware that you'll probably end up putting the nut on the bottom of the assembly (because there's not a lot of room to jam a bolt upwards), so you'll need to get very close to the right size. I drilled and attached one side before the other so I could make sure the underlying strut assemblies were flat to the crossbars. If you just did it by measuring, you might discover that the crossbar doesn't sit entirely flat.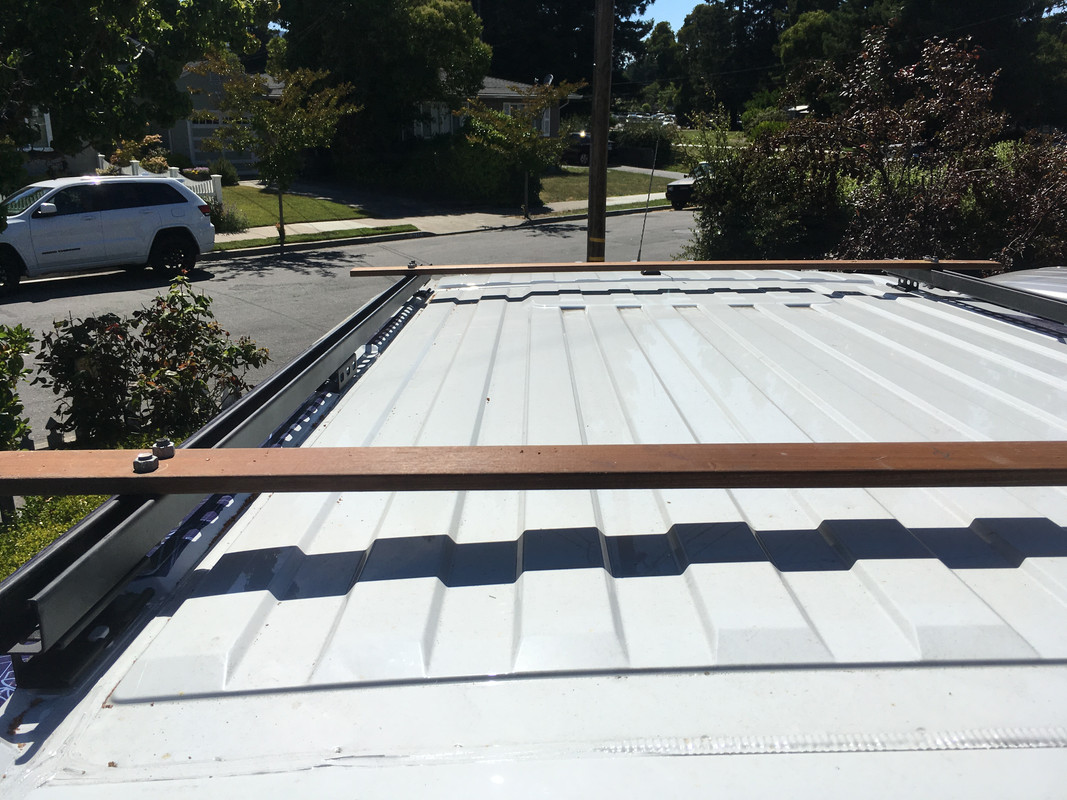 That's it. Feel free to comment, make suggestions for improvements in the text or ask for clarification.
/DewaltDisney