General Information
Hello All,
I thought I'd put some pictures up showing how we added some in floor storage to our 159" ProMaster.
The extra storage was something we felt would be handy to have and the prospect of utilizing free space under the vehicle enticed us to give it a go. I acknowledge that this might not be everyone's cup of tea but, it is something a bit different and shows another solution to the ever pressing storage issue.
Pros:
Having a place to store shoes, tools, tents etc has been really nice
Cons:
I wont lie, it was bit tricky to get just right. By spending more time thinking than doing, it came out exactly how we wanted, just right.
Test fit of Rear seat and rails with proposed floor box locations
Folded floor boxes, ready to fit
Seat Rails tack welded in place with the seat in the rear most position
And in the Forward Position
No turning back.... holes are cut! I imagine this will create the most discussion. My thoughts were that the floor is just there to stop your stuff falling on the road, this was based on the fact that the chassis is continuous (not monocoquoe) and that the Cutaway variant/model has no floor and can be driven around without disintegrating. I did make sure to not cut into any part of the structural chassis/cross members.
Test fit of 1" Insulation + 1/2" ply floor vs Floor box vs seat rail height
Seat raised to final height with floor in place
3mm Vinyl plank cutting and gluing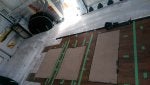 The Finished product